---
2022
---
SAVE THE DATE
FOR AN
EXCEPTIONAL OSTERVILLE TRUNK SHOW AND FUNDRAISER!

Osterville Village Library 43 Wianno Ave.,
Osterville, MA
Thursday & Friday, June 16 & 17 10am-4pm

SPONSORED BY HELP TIBETAN NUNS, INC.
CHOIX HOME apparel and home accessories
TORI BROWN Sportswear
CATCH ALL GIFTS linens
MELLI M golf & sportswear

CMM DESIGNS fine custom jewelry
CAROLYN jackets
ARTFUL DESIGNS

JULIE GIFFORD and FRIENDS original oil paintings & prints!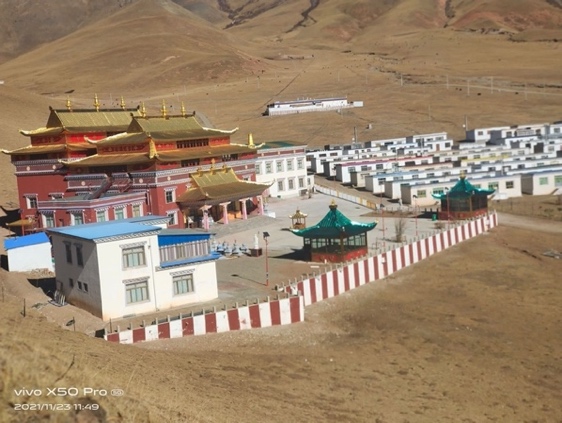 Since the Covid pandemic began two years ago, HELP TIBETAN NUNS, INC. has been providing much needed financial help during this difficult time. This year's focus turns to Tilokpur Nunnery and the Golden Roof Project located in Tibet. Repairs & renovation on an aging, water damaged roof are essential.
20% of All Sales will go to this cause.
If you'd like more information, please visit helptibetannuns.org
HELP TIBETAN NUNS, INC. 7 Parker Rd. Osterville, MA 02655
---
2019
---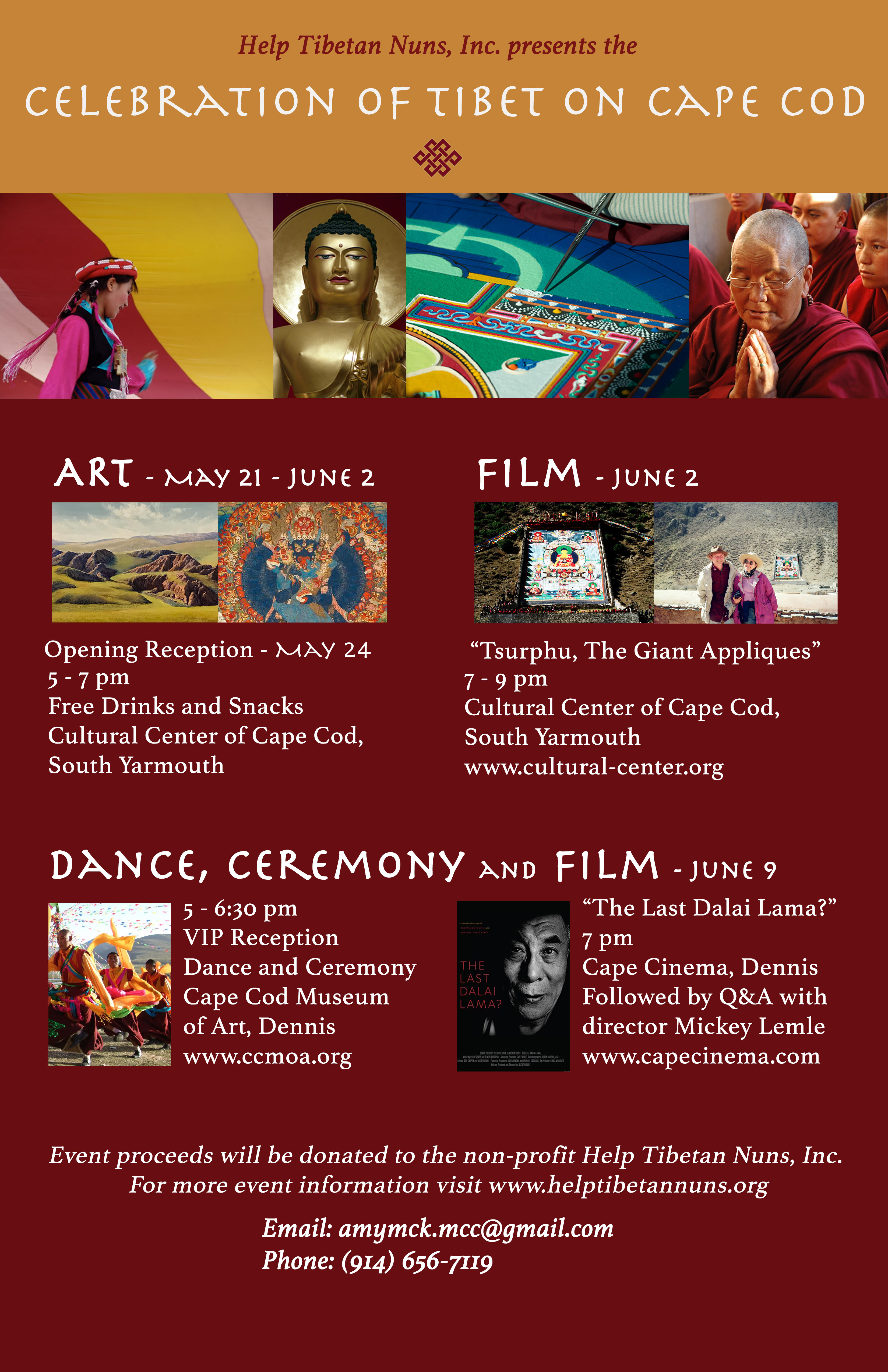 The Cultural Center of Cape Cod, 307 Old Main Street, South Yarmouth, MA
May 21 – June 2: Tibetan Art Show and Sale
Exhibition in the Board Room Gallery will feature Tibetan inspired paintings, thangkas (meditative paintings), photographs of Tibetan scenes and more!
May 24: Free opening reception with snacks and beverages 5 pm – 7 pm
June 2: Screening of Documentary "Tsurphu, The Giant Appliques" 7 pm – 9 pm
This documentary provides a glimpse into a world rarely seen by the West and tells the incredible story of two Westerners working side-by-side with Tibetan seamstresses to reclaim a piece of history. This film will be screened in the main hall of the Cultural Center of Cape Cod.
Tickets are $10 and can be purchased through https://www.cultural-center.org/#home
•••••••••••••••••••
Cape Cod Museum of Art, 60 Hope Lane, Dennis, MA
June 9: VIP Reception, Tibetan Dance, and Mandala Dissolution Ceremony 5 pm – 6:30 pm
Featuring a traditional Tibetan dance performance, a dissolution ceremony of a sand mandala for compassion which Tibetan lamas have created onsite over the course of a week, and a surprise guest speaker. Includes hors d'oeuvres, beverages and a movie ticket for "The Last Dalai Lama?" film which will be screened at 7 pm at Cape Cinema, walking distance from the museum.
VIP Reception & Movie Tickets are $75 can be purchased through https://www.ccmoa.org/
•••••••••••••••••••
Cape Cinema, 45 Hope Lane, Dennis, MA
June 9: Screening of Documentary "The Last Dalai Lama?" followed by Q & A with Film Director Mickey Lemle 7 pm – 9 pm
Twenty-four years after his first film about the 14th Dalai Lama, director Mickey Lemle takes you right up close to the Tibetan holy one's presence — and wisdom.
"A surplus of wisdom and benevolence radiates from 'The Last Dalai Lama?'" – The New York Times
Tickets are $15 and can be purchased through https://www.capecinema.com/coming-soon
Tickets for any of these events can also be purchased by contacting Palma Puzzuoli at 973-876-6822 or by email Puzzuoli@att.net.
Event proceeds will be donated to Help Tibetan Nuns, Inc. a non-profit organization dedicated to helping Tibetan women and children with humanitarian aid.